Writing reports, sales emails and proposal documents is one thing. Retrieving the latest, best and most persuasive content for those documents is another. Your content could relate to the best answers – the best form of words that you have used in the past – to given customer questions.
In many organisations, information about prospects, markets, products, services and track record, is often outdated, uncategorised and held in more than one place by more than one person.
Consequently, sales people, marketers, and business developers often make do with the content they have – sub-standard content – just to get something out of the door.
And yet…. business opportunities are often won or lost by the quality of written communication.
The rapid retrieval method is a means by which information is captured, retained and categorised for quick and easy access. The method brings content into one structured information repository. The result is enhanced use of information, increased content quality and a vast reduction in response timescales.
Content is held in Word and other common formats. Here is an example:
---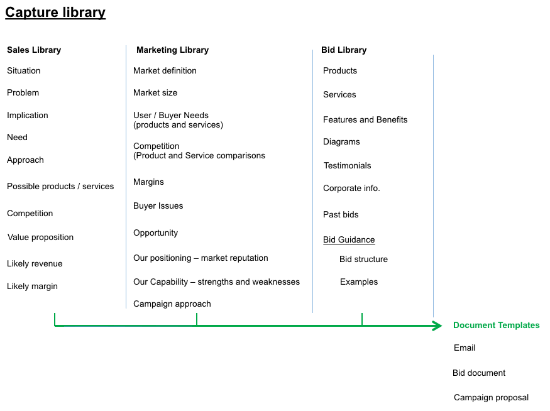 ---
Quick and easy to use
We build in prompts for users to gather, detail and verify key information at the beginning of the process.
In the above example, the method guides writers to insert content in response to specific questions. The three libraries comprise: Sales, Marketing and Bid.
The Sales library includes problem definitions, technology needs, competition and approach. The method prompts account managers to upload the required sales information.
The Marketing library includes information on the market, size, margins, buyer needs and positioning.
The Bid library includes information about products and services and corporate information.
Writers merely need to download basic content from the libraries and tailor it to prospect need. Typically, it takes a few days to organise and implement.